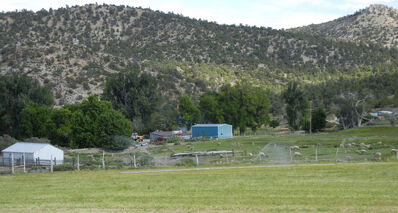 Elevation: 6,322
A former ghost town site in central Nye County. "Adaven" refers to a privately-owned, long-generation ranch, former stage station at the base of the Grant Range.
In this already very remote area of Nevada, information regarding Adaven is sketchy. The story of Adaven begins with a rancher, Thomas Sharp, who settled here in the 1870s. A small settlement formed around his ranch peaking with a population around twenty five for the next fifty years. On May 1, 1939. a young man known only by the name of "Mr. Carpenter" decided to erect a post office and needed a name for it. As desperation calls and not sure what to call the place, he decided on "Adaven," which stuck and operated as late as 1954! For those of you with keen eyes, you'll see that the name Adaven is actually Nevada spelled backwards!
How to Get There
Edit
Today, there are still several small ranches in and around the area named "Adaven," primarily a number of small buildings belonging to the Sharp family in a few neighboring canyons. Adaven Ranch is located 14.7 miles south of US 6 in Railroad Valley, 61 miles southwest of Ely.
Head east out of Tonopah to the Lunar Crater Backcountry Byway and head south for 24.8 miles to Railroad Valley Road. Follow Railroad Valley Road to Adaven Ranch on your right at the base of the Grant Range.
Community content is available under
CC-BY-SA
unless otherwise noted.